Many paranormal enthusiasts have only the Internet and books from which to gain information about their favorite subject. Formal educational opportunities are few and far between at present. Here's a list of books and other media that TEPS members recommend.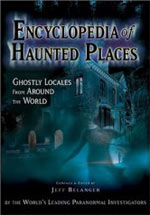 You can find TEPS in the ENCYCLOPEDIA OF HAUNTED PLACES: GHOSTLY LOCALES FROM AROUND THE WORLD from New Page Books. We have an entry for Frank-N-Steins Pub & Gasthaus and are listed in the International Directory!
The Encyclopedia of Haunted Places is the first directory to be written by dozens of the world's leading paranormal investigators. Research notes, location background, first-hand accounts, and many anomalous photographs featuring ghostly manifestations comprise the hundreds of haunted listings in this directory. For years, paranormal investigative groups have been studying their local ghosts with scientific equipment as well as with more esoteric methods, such as psychics and sťances. This directory is a repository of some of their most profound cases. From across the United States, Canada, and many spots around the globe, ghost investigators tell of their sometimes harrowing experiences, share their research, and give readers an overview of both well-known and obscure haunted locales. From private residences to inns and restaurants, battlefields to museums and libraries, graveyards to churches, The Encyclopedia of Haunted Places will offer supernatural tourists a guide to points of interest through the eyes of the ghost hunters. This reference also offers names, addresses, phone numbers, and Web addresses to each location covered. Feeling brave? You may just want to stop and visit some ghosts on your next trip. Jeff Belanger is a voracious fan of the unexplained. He's been studying and writing about the supernatural for regional and national publications since 1997. Belanger is the founder of Ghostvillage.com, the Internet's largest supernatural community, which attracts hundreds of thousands of visitors per year. He's the author of: The World's Most Haunted Places: From the Secret Files of Ghostvillage.com (New Page Books 2004), and The Encyclopedia of Haunted Places (New Page Books 2005).