The
following
are the
known
burials at
Sanders
Cemetery:

Asa
Sanders

Abby L.
Sanders

Hannah

Elizabeth
Sanders

May
Elizabeth
Sanders

Mary H.
Sanders

John
Zweiful

Chris
Zweiful

Elisabeth
Sturges

Asa B.
Sturges

Mary
Wright

William
Wright

Silas W.
Wright

Mary Ann
Wright

Irene
Mulligan
(infant)

Jack Elroy
Beeson

Birdie
Beeson

William
Russell

Elizebeth
Russell

Child
Russell



Base of Asa & Abby Sanders' tombstone. The obelisk that was once atop it is lying nearby.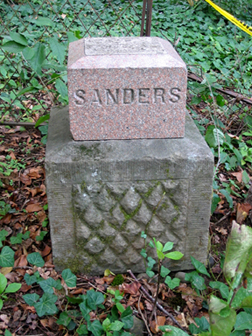 TEPS is not only reclaiming Sanders from the forces of Nature, we hold Cemetery Safety Classes here. Kathryn has seen a man in a black hat and coat (similar to what you always see Abe Lincoln wearing) walking in one area of the cemetery where there are no longer any headstones. She believes he may be trying to direct us to his grave.

We wholeheartedly welcome help from other groups and individuals who would like to bring this cemetery back to a dignified state. Members of Pacific Paranormal Research Society, West Coast Paranormal Investigations and 13th Door Haunted House have all rolled up their sleeves and given their all alongside us to save history and provide those interred with a respectful resting place. If you can't help physically, we also need donations of tools and cash to buy special items to fix the broken headstones and new fencing. If you can help in any way, please e-mail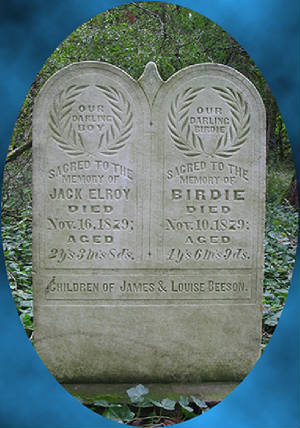 The most beautiful stone in the cemetery and, amazingly, not damaged in any way, is for two children who died six days apart. It appears to be missing portraits, however; there are two oval-shaped spaces carved on the other side where portraits could be inlaid. We have no way of knowing if they were never placed at all, or stolen.



One of the many puzzles at Sanders Cemetery is the fact that an Iowa Infantry Union soldier is buried there, apparently without any ties to the others. With only his short and sweet tombstone epitaph to work from, it was discovered using amateur genealogy skills that his name is John S. Dugan and he fought in the Civil War as a Private in the 4th Iowa Infantry, Music Company. and enlisted three times between October 1861 and June 1863. He was a bugler. He was admitted to the Oregon Soldiers' Home in 1898 at the age of 73, "disabled as follows: Disease of the eyes and heart and by reason of age."
The Civil War Veteran's
gravestone reads:

J. S. Dugan

Band

4th Iowa Inf.

The blue coloring in the photo is
from plumber's chalk. Placed in
a sock or nylon and gently beat
against the stone, it helps to
bring out the carving on stones
without harming them.

If you need more information on those buried at Sanders for genealogical or historical purposes, please contact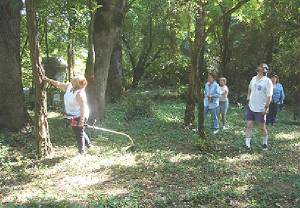 August 20, 2006: TEPS members assessing another tree for safety.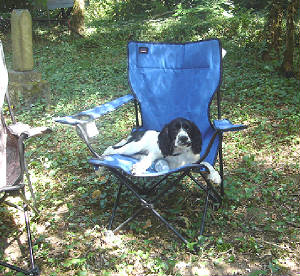 Three-month old Kiarie [ky-ree] taking a well-deserved break from supervising the August 2006 Clean-up.